Jacobsen and BIGGA recognise the importance of preparing greenkeepers to take on the role of Head Greenkeeper or Course Manager. The Future Turf Managers Initiative (FTMI) has been designed to provide practical tools and guidance, to help candidates to pursue their career aspirations through this professional development conference.
Working with professional trainers, mentors, Jacobsen and BIGGA staff, the candidates will leave FTMI with a clear understanding of what the future holds and a realistic overview of the expectations that come with the role of Manager.
FTMI takes place at Ransomes Jacobsen's headquarters in Ipswich, online education sessions and two days of education at BTME, January 2024. It is an intensive training programmed covering;
Presentation Skills
Communications
Presenting a Professional Image
Interview Techniques
Successful CV's
Stress Awareness
Building a Budget
Becoming a Leader
Hear from previous FTMI graduates
Who's it for?
This event is aimed at up and coming greenkeepers who want to make the leap to Course Manager. Focusing on personal and professional development, rather than agronomy based subjects, the FTMI programme utilises the expertise of leading Course Managers, dynamic trainers and industry experts, to mentor and educate the next generation of industry leaders.
International BIGGA members may apply, but should note that they will be expected to meet their own travel expenses.
When is it taking place?
The FTMI programme is a hybrid event, combining in-person and online training. Before applying, please make sure that you are able to attend the dates specified:
In-person: Jacobsen HQ, Ipswich - 20 to 21 September 2023
On-line: October, November and December - dates to be confirmed, it is anticipated that there will be two, two hour online sessions in each month
In-person: 22 - 24 January 2024 - Harrogate Convention Centre
Jacobsen will cover all accommodation costs for both in-person events and will contribute towards travel expenses.
What are the judges looking for?
The ideal candidate will show initiative, dedication to greenkeeping, a genuine interest in the industry and be actively involved in education at both a regional and national level. They will have worked as a greenkeeper for a minimum of three years and will hold their Level 2 qualification. A nominator will be required to validate each application.
Please note, FTMI is open to BIGGA members who are not yet Course Managers or Head Greenkeepers, but aim to progress to this level and beyond.
If multiple applications are received from the same golf club, only one applicant will be considered for selection.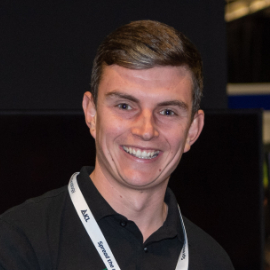 The course has been priceless and will benefit me so much moving forward in my career

Aaron Allibon

First Assistant, Orsett Golf Club
Thanks for the opportunity to be a part of something special

Darren McLoughlin

Deputy Head Greenkeeper, Erskine Golf Club
Thank you to everyone for everything. It was an amazing learning experience and one that I can not recommend highly enough

Malcolm Mitchell

Deputy Head Greenkeeper, Burghley Park Golf Club
It was a proper eye opener for me heading into management and I learned some absolutely invaluable things that will stay with me for the remainder of my career

Steven Thomas

Deputy Head Greenkeeper, Prestonfield Golf Club