Turning golf courses into classrooms
Schoolkids learn about life on the golf course
---
Quick links
Find out more
First Green is an innovative environmental education outreach programme using golf courses as hands-on environmental learning labs. First Green coordinates outdoor STEM field trips on golf courses that allow students to perform hands-on experiments and tests.
BIGGA CEO Jim Croxton discusses the First Green initiative
"The best part about First Green is that there are golf courses in practically every community in the UK and education days can take place at every one of them. This makes the programme accessible to kids everywhere, not just those in large population centres." Jim Croxton, BIGGA CEO
First Green is an innovative environmental and STEM (Science, Technology, Engineering and Maths) education and outreach programme using golf courses as learning labs. Golf course managers, head greenkeepers and/or local golf course representatives host students on field trips where they test water quality, collect soil samples, identify plants, design plantings, assist in stream bed restoration and are involved in the ecology and environmental aspects of the golf course. The students are also introduced to many other aspects of golf.
Golf courses offer economic benefits, recreational opportunities and green spaces to the communities they serve. Golf courses are large parcels of land with healthy turf, trees and other vegetation. They provide wildlife habitat, produce oxygen and filter surface water.
Creating new learning opportunities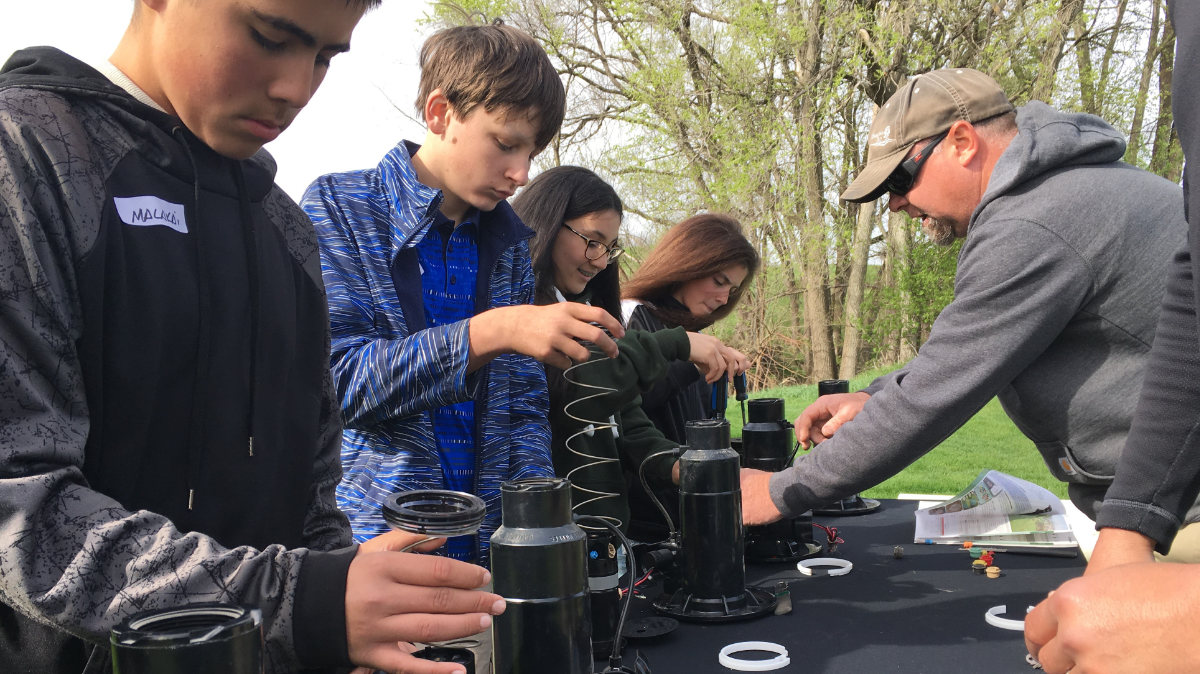 Founded in 1997, First Green is the only STEM education and environmental outreach programme in the United States, Canada and now the United Kingdom that uses golf courses as learning labs.
Wildlife and local community benefits
Provide wildlife corridors and habitats in an ever increasing urban landscape.
Inspire young students to pursue an education and/or career in STEM.
Enlighten communities about the benefits golf courses can have for their environment.
Create a learning and recreation centre that brings the community together.
First Green's impact
The First Green curriculum benefits young students by helping them apply their classroom knowledge in an outdoor setting. By understanding how STEM concepts connect, students find new inspiration in their school work and the possibility of a career in golf or a STEM-related field.
Six benefits of First Green
1. Applying lessons
Learning labs bring the classroom to life on the golf course.
2. Inspiring students
Sparking students' interest in STEM through hands-on experiences.
3. Building community
Raising awareness for conservation brings people together for a common cause.
4. Strengthening futures
More interest in STEM advances our youth, the economy and society at large
5. Advancing golf
The future of the game depends on sustainability
6. Having fun
Field trips to a golf course bring school lessons to life in new and engaging ways.
GCSAA CEO Rhett Evans discusses the impact of First Green in the United States
"If we can get just one student from each field trip interested in the game of golf, curious about working on a course, or studying turfgrass management, then it is a huge success." Ryan Kraushofer, First Green Liaison, Mid-Atlantic AGCS
First Green was introduced in the United States in 1997 and is licenced by BIGGA with kind permission of the Golf Course Superintendents Association of America (GCSAA) and its Foundation,
Learn more at thefirstgreen.org or contact Jenny Bledge - Workforce Project Manager, email [email protected] or call 01347 833 800.
Are you interested in hosting a First Green field trip at your club? If so, please fill in the form below and we will be in touch with more information as it becomes available.