Campey Turf Care Systems
Marton Hall Lane, Marton, Macclesfield, Cheshire, SK11 9HG, United Kingdom
Telephone
+44 (0)1260 224568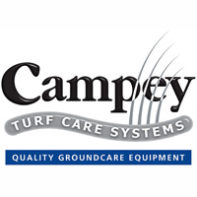 Campey Turf Care Systems is one of Europe's largest independent grounds care machinery
dealers, supplying equipment for all areas of sports turf maintenance and renovation for natural and hybrid turf, to countries in most parts of the world. Over the years Campeys have earned a reputation for offering practical advice and superb aftercare service. Campey is particularly strong in the golf industry with products designed to manage and maintain greens, fairways and parkland areas, tackling aeration, overseeding, spreading and applying soil treatments.
The company acts as a new equipment dealer for some of the most respected grounds care machinery manufacturers including Dakota, Imants, Koro, Raycam, Vredo, Votex and GT Air 2G2 injector.
The company also has a thriving used machinery business and a subsidiary company, Tines Direct, which supplies replacement tines, blades and replacement parts for a wide range of turf care machinery.
More information is available at
www.campeyturfcare.com
Find us on facebook –
www.facebook.com/campeys
Follow us on Twitter -
@CampeyTurfCare
Watch us on YouTube
www.youtube.com/CampeyMachinery

Regions covered