Mann to Mann: What's in a name?
Mann to Mann: What's in a name?
Michael Mann (left) and Michael Mann (right)
With almost 6,000 members, it's inevitable that across BIGGA, there will be some members who share the same name.
There are, for example, two Jim McKenzies. One is the director of estates and golf courses at Celtic Manor and hosted the Ryder Cup in 2010. The other is head greenkeeper at Lamlash on the Isle of Arran, home of the famous £30 golf and grub deal.
There are also two Michael Manns and we thought we'd take a look at their two respective careers and working conditions to get an idea of just how varied this world of golf greenkeeping can be.
Michael Mann, 38, is course manager at Walton Heath in Surrey and hosted the Sky Sports British Masters in 2018.
Michael Mann, 45, was until recently the head greenkeeper and only full‑time member of staff at Carrbridge in the Scottish Highlands, although when we spoke to him he had recently secured a new position as course manager at Boat of Garten.
This is an updated version of an article that appeared in the Spring 2019 edition of Your Course, produced by BIGGA and distributed to every golf club in the country.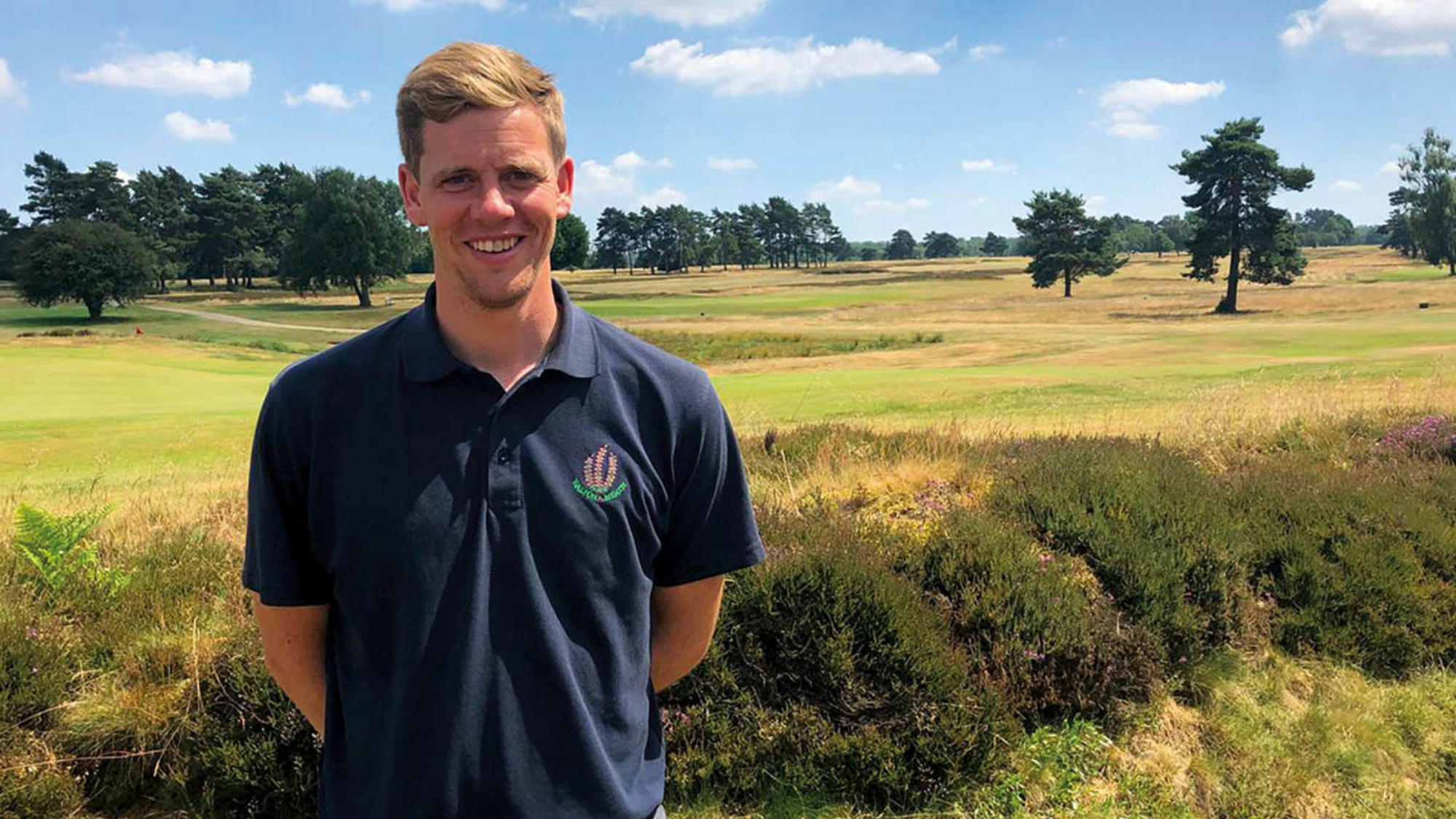 Michael Mann of Walton Heath
WALTON HEATH
When the future King Edward VIII is listed as a club's inaugural captain, you know it is going to be a special venue, with exceptional resources and expectations from those who play it.
With two heathland layouts, Michael Mann overseas a team of 21 at the height of summer. He utilises a fleet that includes four fairway mowers and four tee and approach mowers as he attempts to manage six hectares of tees, 23 hectares of fairways and three hectares of greens.
"We manage Walton Heath as one big course," explained Michael. "We keep the standards the same and obviously those are the standards that you would expect on a high‑profile heathland course that sometimes hosts tournaments. I often think back to where I grew up, where if the membership was over £300, it was a lot of money. It's a lot more at Walton Heath, but then it is an affluent part of the world.
"I don't want to shatter anyone's illusions, but everyone has a budget and you can't live beyond your means."
Walton Heath hosted the Ryder Cup in 1981, Senior Open in 2001, British Ladies Amateur in 2000 and hosts US Open Qualifying annually.
Last year, the club held the European Tour's British Masters, won by Eddie Pepperell. That brought an acceleration in maintenance work, to ensure the course was as good as it could be for the arrival of the top professionals last autumn.
Michael added: "There were some tees that we were planning to improve in the future and that was brought forward. I think in total, we reconstructed nine tees. On the composite course that we put together for the tournament we exchanged sand in 65 bunkers.
"All of this was stuff that needed to be done, but whereas you could expect to complete it over two years, we managed to complete it in a single winter.
"This year we have been completing heather regeneration programmes, revetting bunkers, pathways and things like that. There are always improvement projects going on every year."
Affordable water supplies are becoming increasingly difficult to come by and so Michael is exploring ways to make Walton Heath self‑sufficient through water capture projects to feed the on‑site reservoir.
"It came to a point last year where the drought really took hold and we were drawing water from the mains supply, but we needed even more."
Like most high‑end venues, there is a zero‑tolerance approach to damage and so even though the budget is large, every penny is accounted for and targeted.
Michael said: "The job has to be done well and that applies to everything, from top to bottom."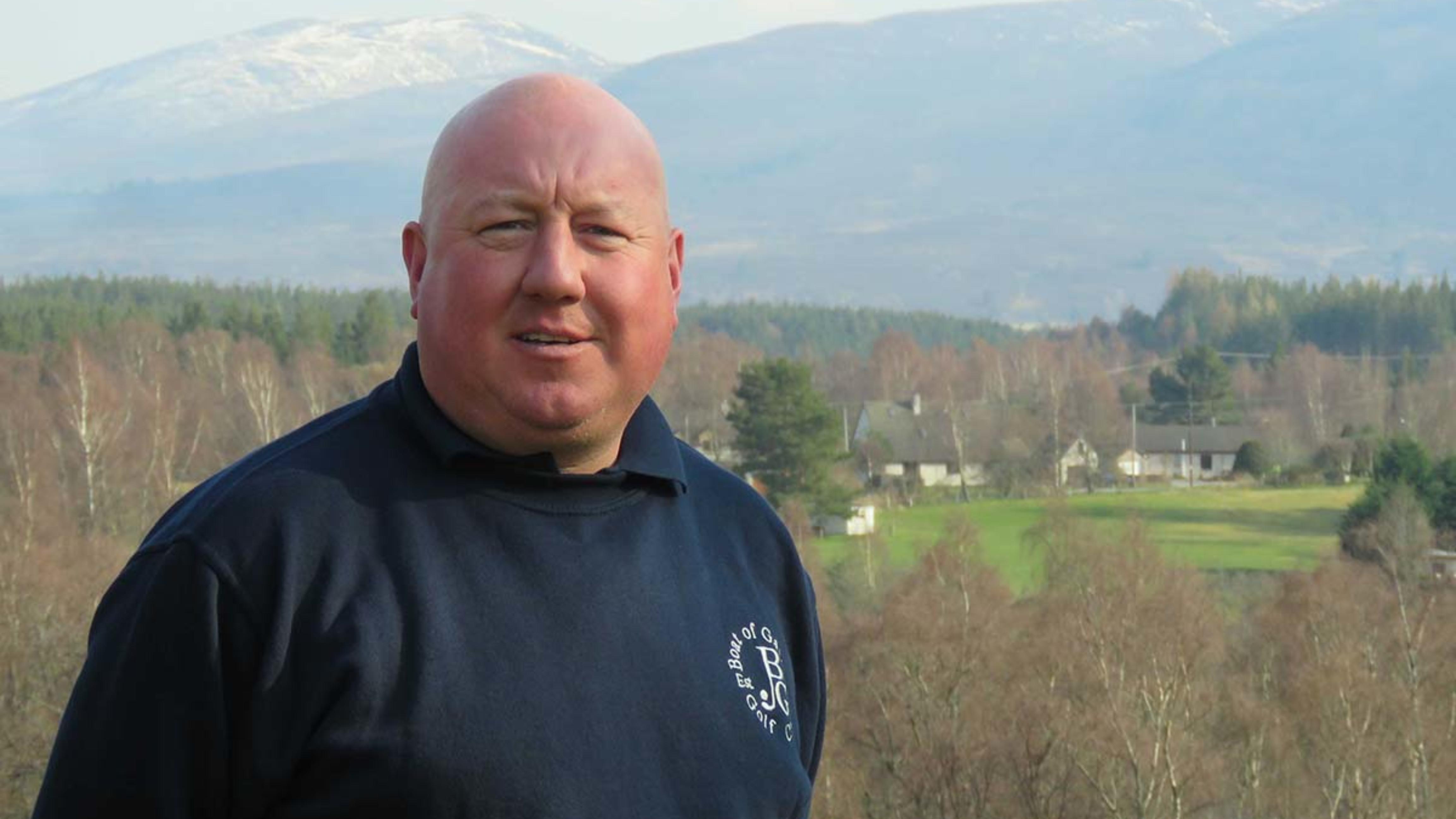 Michael Mann, formerly of Carrbridge and now at Boat of Garten
CARRBRIDGE
Five hundred miles north of Surrey and Carrbridge is a nine‑hole golf club that for 22 years was overseen by Head Greenkeeper Michael Mann. For seven months each year, he was the only member of the greenkeeping team.
"When I started at Carrbridge, I had one other full-time employee. But over the years circumstances and finances changed and the club cut back, meaning we were only employing other staff seasonally. That meant that for seven months of the year, I was working alone, and I did that for 12 years.
Carrbridge is set against the backdrop of the Cairngorm mountains in Scotland's Spey Valley. In winter it can be cold and remote, especially when you're working alone, but that didn't faze Michael.
"The key is to plan well and be determined to finish what you're doing. Be dedicated and set yourself goals every day," he added.
Michael's greenkeeping budget for the entire year was set at under £13,000. £7,500 was spent on course upkeep, while machinery, repairs, servicing and fuel costs were just over £5,000.
"I have a good association with quite a few of the manufacturers and suppliers of greenkeeping products," said Michael. "We just tried to get as good a deal as we possibly could for everything we bought, most of which was second hand."
It could be said that Michael has paid his dues and was rewarded with the course manager role at nearby Boat of Garten, where he now oversees a team of five greenkeepers.
"I was very happy at Carrbridge and I loved it there," he explained. "But obviously you can't refuse an opportunity like this."
After spending so long working alone, how did Michael convince the management at Boat of Garten, a James Braid design ranked 41st in Scotland, that he was the man to lead their team?
"I said I would grab the opportunity with both hands," said Michael. "I said I would start at Carrbridge with 100 things running through my head, knowing I couldn't delegate anything, but now it's just 10 times easier because I can delegate and get four or five things done at once.
"My aim for the coming years is to improve on what's here. The first thing I did was ask the professional and the course manager what the main complaint over the past five years had been. I think everything they told me is achievable and the club has said there's more money to spend.
"It's quite good to have some money to spend at last! Carrbridge ran perfectly well and they are very sound financially, but this is just a completely different level altogether.
"The thing I'm looking forward to most is getting time off in the summer. At Carrbridge I'd be working seven days solid for six months. So now, I've landed on my feet!"
This article was first published in Your Course, the twice-yearly magazine from the British & International Golf Greenkeepers Association that aims to inform golfers about what goes in to the maintenance of a modern golf course and the greenkeepers whose job it is to produce the surfaces.
Author