Is your golf course a wildlife champion?
Is your golf course a wildlife champion?
Ian Jelley of Warwickshire Wildlife Trust
It has been claimed that between 1970 and 2013 more than half of wildlife species in the UK declined. It's a worrying trend – the naturalist Chris Packham described it as an 'ecological apocalypse' – and one the UK's 46 wildlife trusts are working hard to arrest.
But did you know that golf courses are ideally placed to help lead the restoration of the country's ecological health?
The UK's wildlife trusts look after more than 2,300 nature reserves, covering 98,500 hectares. It's a comparable number to golf courses in the UK, of which there are around 2,600 covering 125,500 hectares.
In the past, there has been a commonplace belief that an area of land must serve a single purpose. Either it is a wildlife reserve, it's a golf course or it's set aside for agriculture – it can't be multi-purpose. These days that perception has changed dramatically and, in the Midlands, Ian Jelley is working closely with local golf clubs towards a shared goal.
Jelley is director of Living Landscapes at Warwickshire Wildlife Trust and he has forged partnerships with Coventry Golf Club and others in the area. He said he's been surprised at just how aware golf clubs are of their environmental responsibilities and their eagerness to adopt new, sustainable practices.
"Our remit is to create bigger, better, more joined up areas for wildlife and people," he said. "Wildlife trusts can't own everywhere, but if we can inspire other people to manage their land better, wildlife can live beyond the borders of our nature reserves.
"In working alongside greenkeepers, I've been amazed at the pride they take in managing the course, for wildlife as well as for golf.
"They're very proud of the playing surfaces they can produce, but when I've visited their courses, they've shown me examples of the high-quality ecology management they're doing.
"They're out there every day and they know their courses incredibly well, so it's great to hear about their wisdom and knowledge."
Opportunities for golf clubs to engage with ecology have been around for a number of years. The non-profit Golf Environment Organisation works in more than 60 countries to protect and foster biodiversity and natural landscapes, encouraging sustainability within the sport. Another scheme, the STRI Group's Golf Environment Awards, are supported by major industry bodies, including BIGGA, and seek to raise awareness and recognise golf clubs who are doing great things to improve their ecological footprint.
The Golf Environment Awards are presented each year in Harrogate to coincide with BIGGA's annual conference and exhibition, BTME, the largest gathering of golf greenkeepers in Europe. Jelley was invited to attend the event for the first time in 2019 as BIGGA hosted an Ecology Forum, attended by members of the greenkeeping association. He said he was astonished at just how widespread the desire to do good was within the industry.
"I found it really inspiring, actually," he said. "As someone who came from outside the sector and didn't really know the scale of the event, I was blown away by the enthusiasm in the room. People were really keen to share their experiences from around the country and it was a really good example of how much is already going on in the industry."
Improved ecology practices on a golf course may begin with something simple, like erecting bird boxes around the site, but it certainly doesn't end there. If the correct ecosystem isn't in place to support biological diversity, then boxes will remain uninhabited. Rather, practices begin at the smallest level, such as the introduction of wildflower species to encourage pollinators.
Another idea is the introduction of longer areas of grass, which will encourage small rodents such as field mice, which in turn will feed the larger birds of prey. As such, areas of the golf course will need to be set aside for 're-wilding' and so don't be surprised if your golf club starts to look a little rough around the edges.
The pay-off from turning out of play areas over to ecology will be a more natural environment, filled with wildlife. Rather than detracting from your playing round, studies have shown there are great physical and mental health benefits from regular interaction with nature.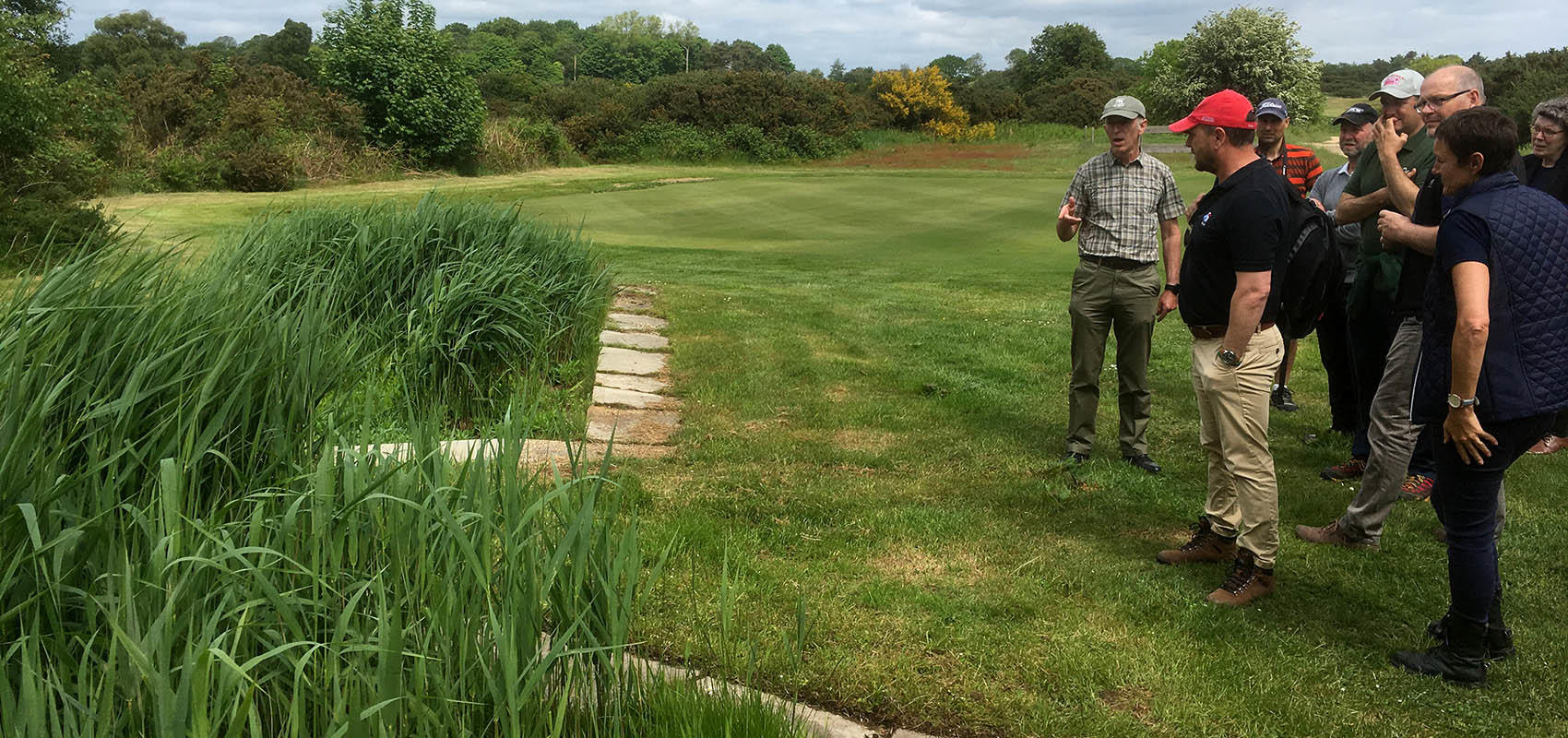 Mark Brough, course manager at Aldeburgh, gives a tour of the golf course and explains some of the wildlife habitats that his team has provided
Jelley said: "Wildlife numbers in this country are in freefall and many species are on their way to extinction unless we do something.
"It can get quite depressing when you work in the conservation sector, but then you meet these guys who are out on the ground, making space for nature in their own little way, and that's what we need to help nature's recovery.
"It's about inspiring people and so going to BTME and hearing so many examples from around the country of where people have made their own bird boxes, bug hotels, wildflower areas and things like that, was just incredible.
"They were all really passionate about what they were doing and they were also keen to take other people on the journey with them, which in many ways is just as important."
There's a movement in golf towards looking outwards at the wider environment within which the sport operates and greenkeepers are leading the charge. If you're interested in finding out more about what your course is doing to improve its ecological footprint, speak to your greenkeeping team.
The Autumn 2019 edition of Your Course is in clubhouses now and features this and a number of other interesting topics about the work of greenkeepers and how they prepare the golf course for your enjoyment. You can also download a digital copy of the magazine from the BIGGA website.
If you enjoy reading Your Course or you've got some ideas on topics we should cover or how we can improve the magazine, we've got a survey that you can answer that gives you the chance to win a Precision Golf rangefinder.
Author