'I'm really enjoying being an apprentice'
'I'm really enjoying being an apprentice'
To mark National Apprenticeship Week, we're taking a closer look at one golf club that has been keen to engage with apprentices.
Trentham Golf Club is a 18-hole members' club in Stoke-on-Trent. The 125-year-old parkland course has previously hosted Open Championship Qualifying and national amateur events.
Alongside The Greenkeepers Training Committee, which pioneered the new Trailblazer apprenticeship scheme, BIGGA is working to encourage youngsters to consider taking on a career within greenkeeping through work-based training.
The benefits for employers can also be huge, including gaining access to local, ambitious and inexpensive talent.
Tom Bromfield, 18, is one of two apprentices at Trentham, working alongside former apprentice Reece Tomalin, who was the first young person in the UK to enrol on the new Level 2 Certificate in Golf Greenkeeping.
Tom has been at the club since summer 2017 and in the third part of our series looking at apprenticeships, Tom told us how he's enjoying getting hands-on experience of the role while continuing his studies.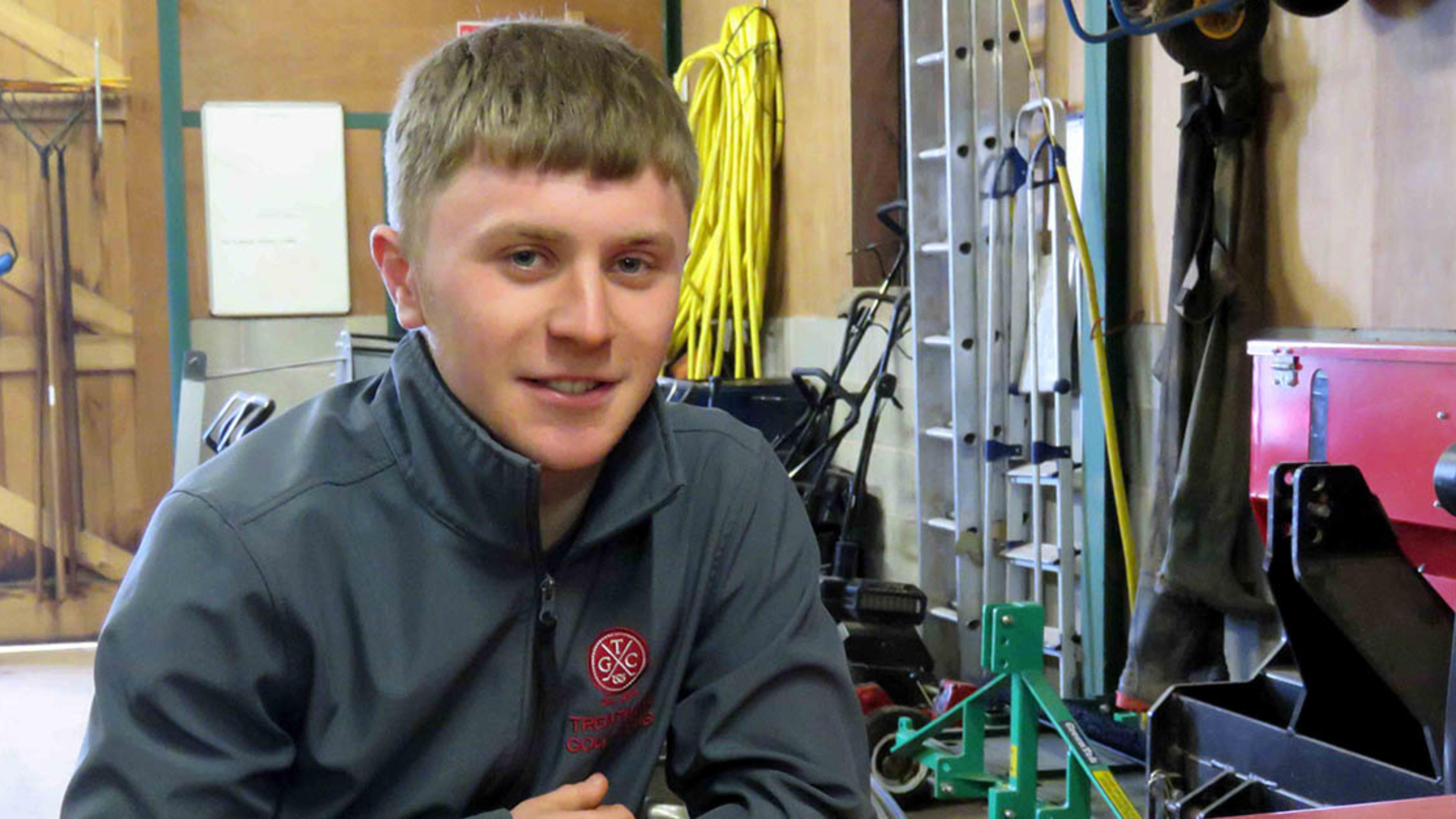 How did you get into greenkeeping?
I've been playing golf for around four years, so I've seen the work that greenkeepers do. I was a bit conflicted about whether to do an apprenticeship or go to college when I left school. Originally, I was going to go to college and then I found out about the apprenticeship here and I thought why not, let's give it a go.
What attracted you to apprenticeships?
For a start it was outside and I didn't really fancy sitting in a classroom and doing work. Also, you're getting rewarded for what you're doing and you're learning on the job, you're learning new skills and that really interested me.
How is your apprenticeship going?
It's going well. It took me a few months to get used to it because obviously it's something new, being outside. But once I got my foot in the door, I really started improving.
What do you enjoy about greenkeeping?
Working outside is the best part. I like all the jobs we have to do, such as maintenance work and I've really enjoyed doing bunker work and returfing areas of the course.
How are you finding the balance between working and studying?
It's fine because I'm used to doing homework from school. During the day you're not doing homework or college work, so it's a bit of a change when you get home, but I don't find it a problem.
Does the work you do on the course make studying easier?
Yeah, it's making it a lot easier. I actually find that you learn more on the course than you do at college sometimes. When your college tutor comes in and asks you a question, sometimes you already know the answer because you've been out there and you've shown and you've already done it.
How has your employer supported you?
They've supported me the whole way and really helped me to get my foot in the door and get going.
How is your relationship with your college?
They're really helpful. Adam, my tutor, is constantly talking to me, making sure my work's OK and if there's any improvements to be made he does let me know, so I can see where I'm going wrong and where I can improve.
Do the other apprentices help you?
Obviously, we've got Jak and Reece here. With Jak being new I try and help him a bit. I do see apprentices on social media and I do look at what they're doing.
Is there competition between you apprentices?
There's obviously a bit of a laugh and a joke, but we do take it seriously and we try and help each other out if we're struggling at things and use each other's brains to try and help each other out.
Have you used the GTC's training manual and other resources?
I find them really useful. Sometimes you get the odd question at college where you're not sure, but you can go straight on to the GTC website and the answer's there for you.
Has your BIGGA membership helped you get more experience?
I went to Harrogate in January 2018, where me and Reece did the Young Greenkeepers' Conference. We learnt a lot about things on the golf course and we did actually meet a few past apprentices who are now qualified and we spoke to them, especially one from Trump Golf Scotland in Aberdeen and he told me 'keep sticking at it, work your way up and you might get to work up here one day!'.
Were you surprised by the network that BIGGA provides?
I didn't realise how close clubs work and I do notice that they're constantly in contact, borrowing machinery if needed. I think that's quite good.
What are your ambitions for your career?
I'd really like to continue here and get some more experience. Then I would like to maybe look at working for a football club to see the other side of being a groundsman, so I've seen things from both sides, bith a golf club and a football club.
For more information about greenkeeping apprenticeships, head to www.the-gtc.co.uk/learning/apprenticeships/or contact Fiona Lyttle or Emma Willis at The GTC by calling 01347 838640 or email [email protected]
Author

Karl Hansell
BIGGA | Communications Manager
Karl has been head of communications for BIGGA since March 2016. His duties include editing the monthly Greenkeeper International magazine, in addition to other communications activities for the association.