The golfer's guide to greenkeeping machinery
The golfer's guide to greenkeeping machinery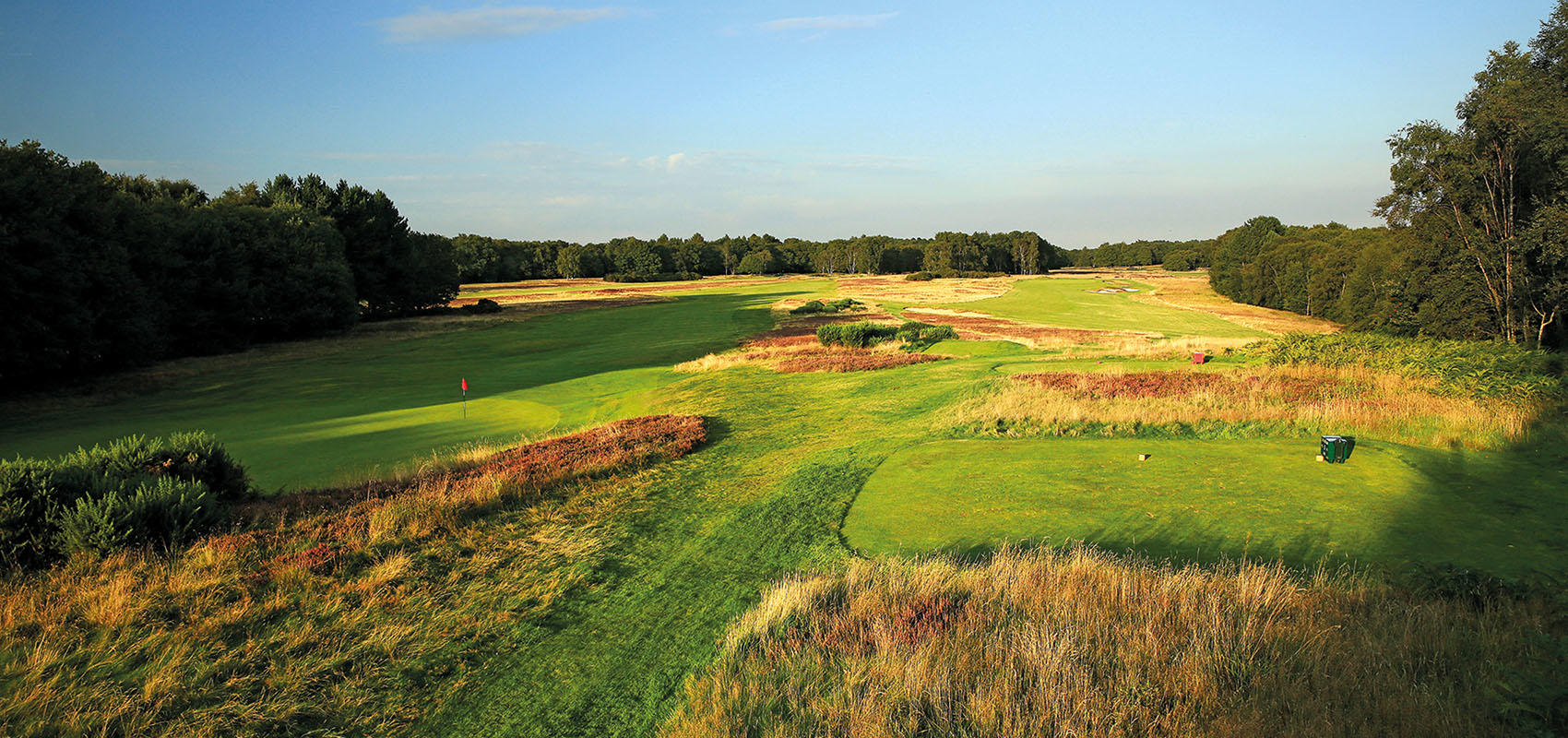 What do the Alwoodley greenkeepers use to get their course looking like this?
With Steve Carroll, journalist at National Club Golfer
Listening to Alwoodley course manager Matthew Brighton reeling off his equipment list is both alluring and confusing.
"We've got two greens mowers, two tees mowers, four pedestrian greens mowers, three pedestrian tees mowers, two fairways mowers, a rough cutter, three utility vehicles, two 50 horsepower plus tractors, one with a loader, and two 30 horsepower tractors," said Matthew. "We've got a topdresser, a verti-drainer, a sweep and fill brush, a drag brush, slitters, stars slitters, scarifiers, verti-cutters, vibrato-rollers, Poa-busters, a turf iron, even our own grinders."
My head is spinning. There's so much equipment. The maintenance facility is a place of wonder. Mowers are lined up in rows and weird contraptions weave in among the spades and shovels. But what does this stuff do?
We asked Brighton to take us through the essential kit he uses at the classic Leeds heathland and explain how it keeps his course in top condition…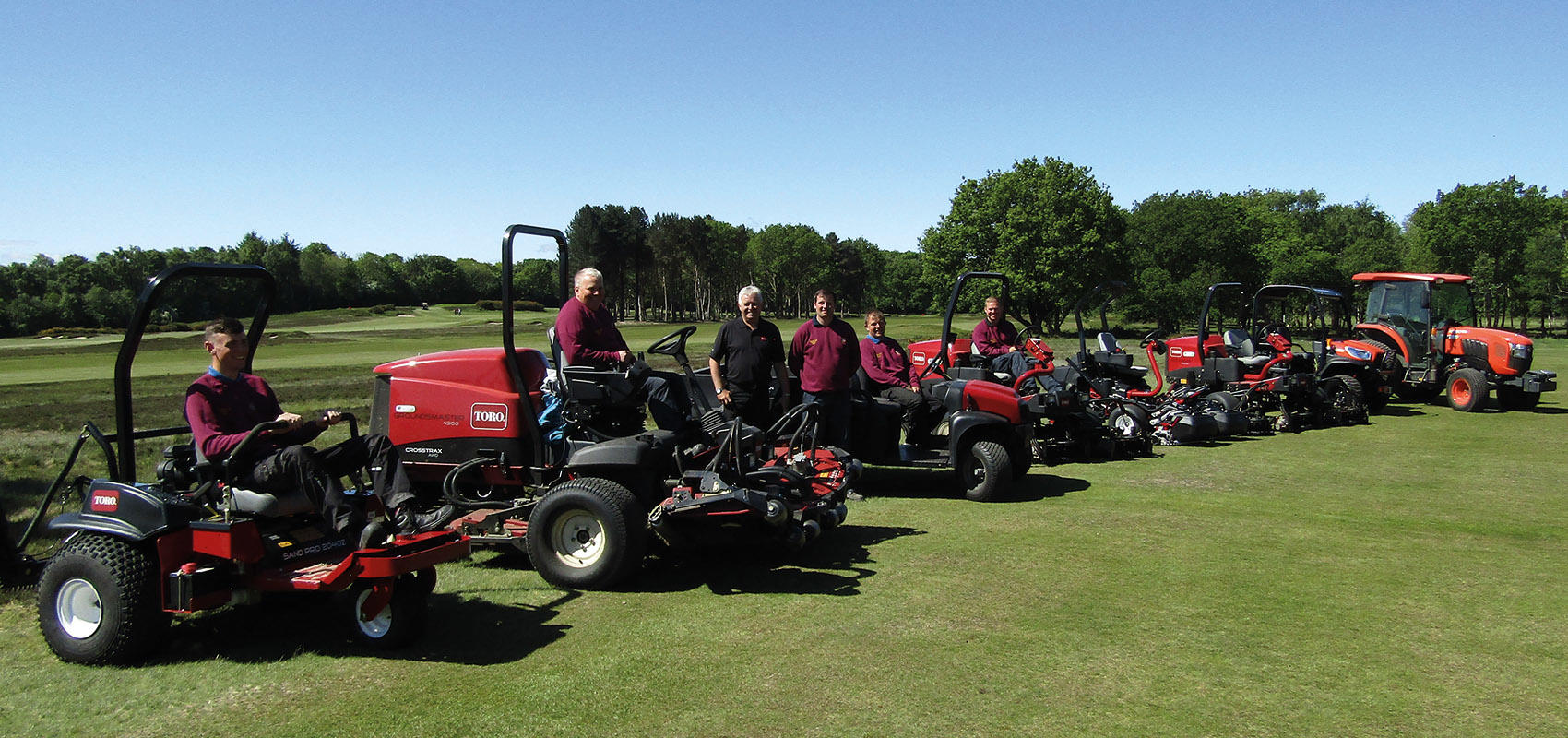 Greens mowers
They do exactly what they say on the tin. They have a three-wheel system, laid out in a triangle formation that creates less pressure per square inch when moving across a green. That pressure is actually less than a human foot.
They have slick tyres and we're running them at about 10Psi. Through the summer, we cut at 3.5mm and have grooming brushes on the front of the mower, which we can lower and lift accordingly. The brushes stand the grass up in front of the cutting blade, giving you a neater, more uniform cut.
Tees mowers
They're similar to a greens mower in that they are on a three-wheel triangle platform. We cut our tees at 8mm through the summer and that's fairly low.
Where they differ is in the units. Greens mowers have tournament blades. There are 11 blades on a cylinder and that gives you a closer, more refined, cut. On our tees mowers there are seven blades.
Our cylinder mowers are driven by hydraulic pump. The pump turns the cylinder within the unit and underneath that is a bottom blade. You set the height and adjust that blade to the cylinder.
Tees mowers are used to cut our surrounds and approaches and we'd also cut around a quarter of our tees with hand mowers. That's down to their size. With ride-on mowers, you can scuff the corners a bit and the hand mowers work a lot better there.
Fairway mowers
These also cut using a cylinder, with a bottom blade, and we cut our fairways at 14mm.
The design has changed very recently and the mowers shifted to a three-wheel system on slick tyres. At first, people were unsure about how the lack of traction would cope if fairways were wet or if there was a heavy morning dew, but they've worked really well.
You are doing a lot of turning at the end of each line on your fairways. We half-moon our fairways, which means we cut them half towards the green and half towards the tee. If you stripe cut, there is a lot of turning and these new machines have completely eradicated any of the scuffing you might have had. They are diesel powered and it's a hydrostatic traction unit.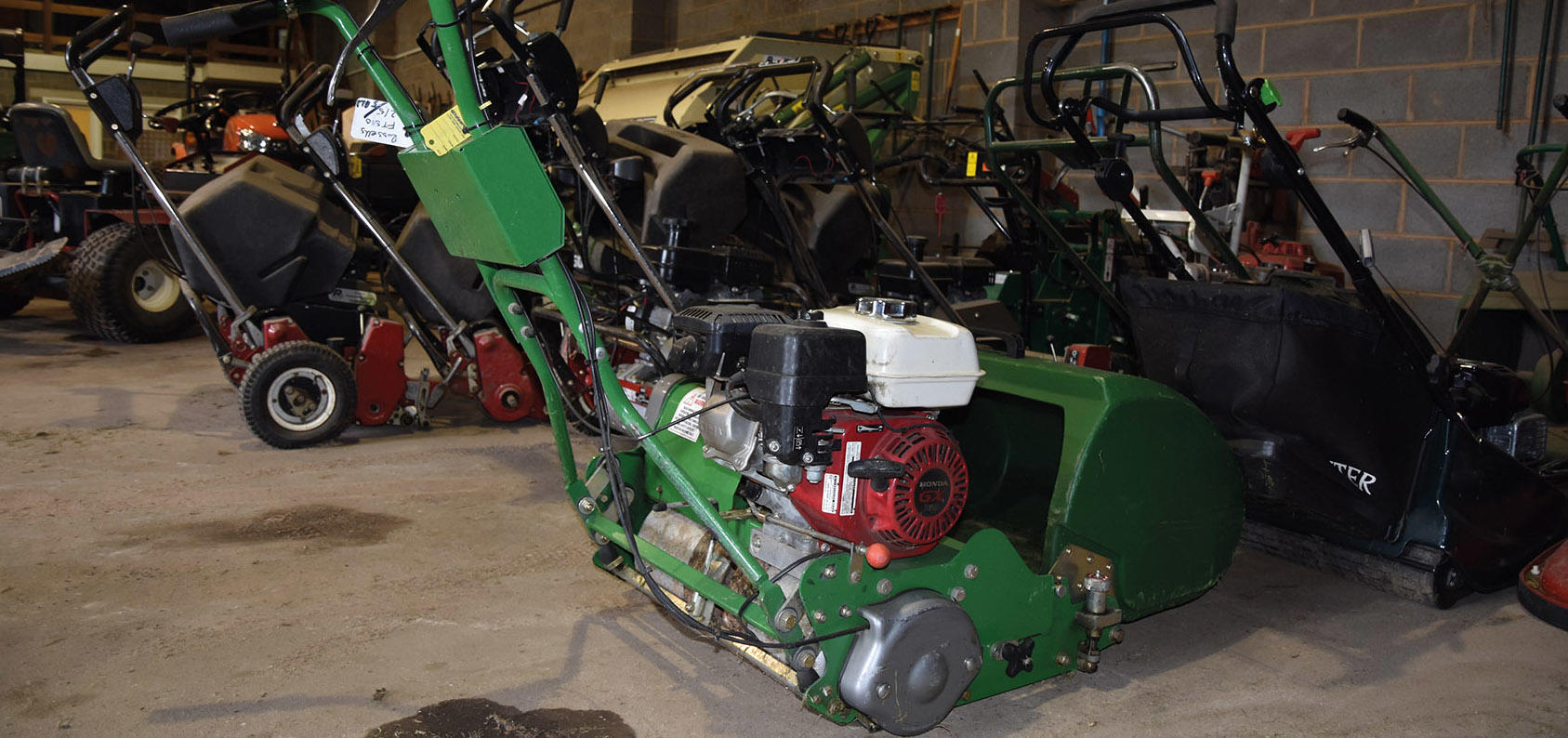 Hand mowers
There are four pedestrian greens mowers and three tees mowers.
The difference between the two is the size. The tees mowers are just a bit bigger and allow the job to be done a little bit faster. One of our tees mowers is a bit smaller and is throttle driven so we can control its speed, making it more operator friendly on smaller tees. They are also cylinder cut machines.
Many courses would use hand mowing for tournaments and captain's days. Although it takes longer than using a ride-on machine, hand mowing gives as a neater, tighter cut and a healthier sward. We tend to use them more as a winter machine when conditions mean that using a ride-on is more likely to cause problems around the edge of the green when turning.
Rough mower
We use this for semi-rough and it's a rotary mower, compared to the cylinders used on greens and tees. The blades turn in exactly the same way, but the motors are mounted on the top of the unit, with the rotor blade underneath. You get a good finish. We have a lot of heather and rough areas and probably spend about 14 hours a week cutting semi-rough.
Tractors
Our largest is 60hp and it's a diesel machine and hydrostatic – so a cross between a manual and automatic gearbox. You select gear changes, put the foot to the pedal and you don't have to change while you are driving.
The higher the horsepower, the bigger the tractor, and we've got some machines – like the verti-drainer – that are almost a tonne in weight. For the tractor to lift it, it has to have the power, but also has to be strong and stable to get around the course. We have weight systems that go on the front of all our tractors to help counterbalance. Put a tonne weight on a small tractor, though, and you will lift the front wheels of that tractor up into the air!
Bunker machine
We've got 112 bunkers and it's a 50/50 split between hand raking and using the machine – which we use depends on their size and shape. To fully rake our bunkers takes four men about four-and-a-half hours. Depending on the weather through a week, you can spend a huge amount of time raking bunkers. If it's been raining heavily we'll need to get in every bunker to redistribute the sand and fix any washout that's taken place.
Unlike the tees and greens mowers, the bunker machine has front wheel steering. You can turn it on a six-pence. There are two-inch metal tines on the back and a finishing plate.
These tend to run on petrol, where our other machines run on red diesel, so there is a running cost. We have two. I remember the days when we only had one and I wouldn't want to go back to that, because this is such a time-saving piece of equipment.
Not every course has the resources or the style of bunker to make an investment in a ride-on bunker rake and so we're very lucky in this sense.
Utility vehicles
These are used for so many different jobs. They pull the turf iron or we load trailers with the hand mowers and transport them around. We also use them when going out to rake bunkers or move holes as it would take a long time to walk around every single hole. They are the machines that we'll use the most during a year. One is electric and two are diesel.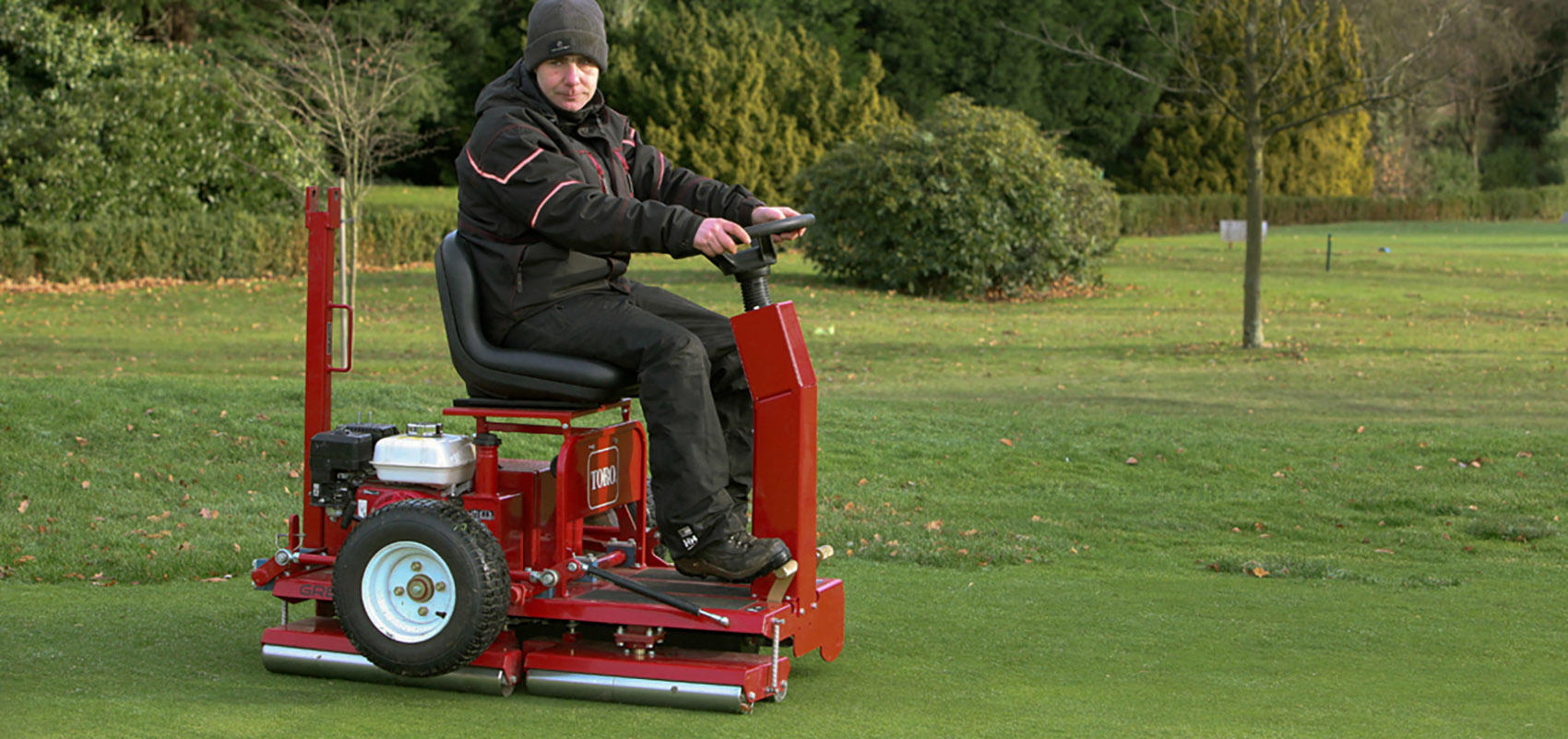 Turf iron
A turf iron gives us and the turf rest days, where we don't have to cut – because of the speed you can maintain by rolling the green instead. Constant cutting puts the turf under stress and so if you can get a day where you can iron them instead, you're getting healthy turf that is less susceptible to disease.
Rolling also allows you to raise the height of cut slightly and maintain the same speed. This means that the grass leaf has a greater surface area, making the turf healthier.
The machine has six individual rollers on one side and one main roller on the other. You may have seen a turf roller in action out on your course and it looks a lot of fun because the machine passes across the green in a sideways motion, like a crab or a ride at the funfair.
Turf irons have helped greenkeepers unbelievably in giving the green speeds required without having to cut them at 2.5mm and 3mm.
Hollow coring and topdressing
We use our corer before the season starts, in the middle of summer and at the back end of the season on our greens and tees. I also use it on fairways.
They're really nimble and very user-friendly. The tines are on a quick release system. A bar locks into a hole on the back of a block, you lift it up and it ejects the tine. You take the collar off the tines, put what you want on the collar and use the bar to wedge it back in.
There are various types of tine, which are similar to needles that poke into the green to increase the amount of air that gets into the soil. The different types are solid, slit and hollow tines. Solid tines are probably the most common and help to open up the soil, allowing water and air to go into the soil, where it is needed most. Slit tines encourage strong roots by pruning them, while hollow tines remove a small plug from the lawn. This can be used to add seed into the soil or alternatively it can be used if you want to grow turf in a new area, using the existing turf you already have.
The flexibility of our topdresser allows us to put really light dressings out more frequently, which helps smooth the surface and helps the roll of the ball.
The Autumn 2019 edition of Your Course is in clubhouses now and features this and a number of other interesting topics about the work of greenkeepers and how they prepare the golf course for your enjoyment. You can also download a digital copy of the magazine from the BIGGA website.
If you enjoy reading Your Course or you've got some ideas on topics we should cover or how we can improve the magazine, we've got a survey that you can answer that gives you the chance to win a Precision Golf rangefinder.