Continue to Learn is back for 2022
Continue to Learn is back for 2022
Continue to Learn is back for January 2022 and you can book your education experience online now.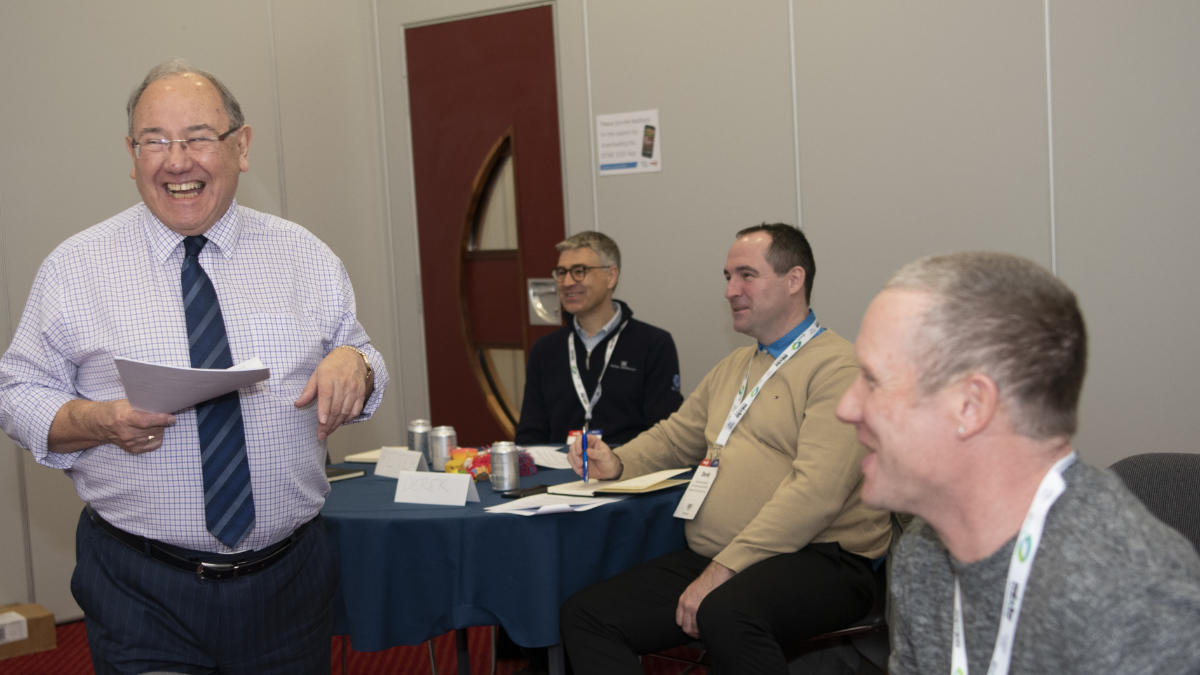 BIGGA's Learning and Development Team has unveiled the education programme for Continue to Learn 2022.
Since we last held Continue to Learn in Harrogate, during January 2022, Sami Strutt and the team have been working hard to provide learning opportunities for our members. They've also picked up a few tips and tricks along the way that will make Continue to Learn 2022 an incredible opportunity for BIGGA members to progress their careers and gain knowledge.
Sami said: "Following the successful transition to an online event in January 2021, we have taken the traditional Continue to Learn format and re-imagined it to streamline our flagship education event, continuing our commitment to providing world class education and development for greenkeeping professionals.
"In January 2022 Continue to Learn will return to its rightful home at the Harrogate Convention Centre. Make sure you book early to secure your place and we look forward to welcoming you back to Continue to Learn, BTME and Harrogate!
Continue to Learn 2022 will be divided into three elements: Conference, Classes and Seminars.
Continue to Learn 2022
Spanning two separate auditoriums, the Conference will feature a wide choice of sessions over three days.
By purchasing a Conference ticket, you will have free rein to wander between the venues and select an education programme that's bespoke to your requirements.
Each day of the conference will kick off with a general session before splitting into two distinct programmes. At the end of the day we'll bring everyone back together for a key final session.
You can purchase one, two or three-day tickets for the Conference and discounts are available for individual teams.
Throughout the Conference there will also be sessions relating to The R&A's Golf Course 2030 roadmap, with updates provided on the progress of related projects.
Classes are what you may previously have known as workshops, focus on sessions and career development sessions.
They may be half a day, a full day or even two days in duration, but they are learning opportunities based around a specific area of knowledge that you would like to improve upon.
Topics include: irrigation; renovation; strategic planning; cutting units; managing stress; managing teams; water efficiency; drought management; conflict resolution; recruitment; supervisory skills; fertiliser plans; mathematics; turf machinery maintenance; soil analysis; reading trial data; tree surveying; building a budget; positive thinking; identifying grass species; drainage; motivation; utilising data; personality profiling; health & safety; team building and many more.
Taking place in the Harrogate Convention Centre's Blue Zone, these sessions will be an opportunity to gain knowledge without leaving the exhibition floor.
The 14 free-to-attend seminars will be hosted by exhibitors at BTME and headphones will be provided to all attendees so you don't miss anything.
Discounts are on offer and Turf Rewards from ICL and Syngenta can be used to book the education of your choice.
You can also download the BIGGA App to keep up-to-date with all the latest information relating to Continue to Learn and BTME.
Book via the BTME website, btme.org.uk/continuetolearn
Key note speaker
Dr Ben McGraw, associate professor of Turfgrass Science, Penn State University
Dr Ben McGraw will be speaking on two separate topics during the Conference that will prove particularly interesting to BIGGA members. Ben has dedicated his lab to better understanding the biology and ecology of turfgrass insect populations in an attempt to move the industry away from an unhealthy dependence on chemicals to control insect pests
A very muddy situation: managing problematic earthworms on golf courses without chemicals
Earthworms aerate the soil, decompose organic matter and thatch layers and increase the availability of nutrients for plant uptake through deposition of nutrient-rich faecal matter (casts) within the soil profile.
However, their cases can be the bane of many turfgrass managers' existence!
As onw od rgw most poorly understood groups of soil macrofauna, with no natural or synthetic compounds registered for their control, only cultural practices remain to decrease their casts, making the management of earthworms a very real challenge for turfgrass managers.
This session will look at the research that is being conducted at Pennsylvania State University to find solutions to discourage earthworm casting in fine turf through cultural practices.
Leatherjacket management for the United Kingdom: what works and what is rubbish?
Nematodes? Molasses? Sheeting? Acelepryn? Chemical restrictions in the United Kingdom have left many greenkeepers struggling to manage leatherkaclets and seeking alternative management practices. This session will discuss the trials and research being conducted at Penn State University into cultural, biological and chemical control of the leatherjacket species Tipula paludosa and T. olderacea that are currently plaguing northern Europe.
Go to BTME home page or use back button
Author

Karl Hansell
BIGGA | Communications Manager
Karl has been head of communications for BIGGA since March 2016. His duties include editing the monthly Greenkeeper International magazine, in addition to other communications activities for the association.